Shadow Puppets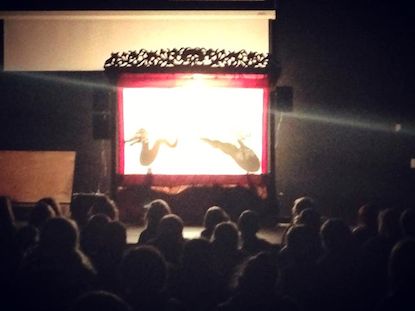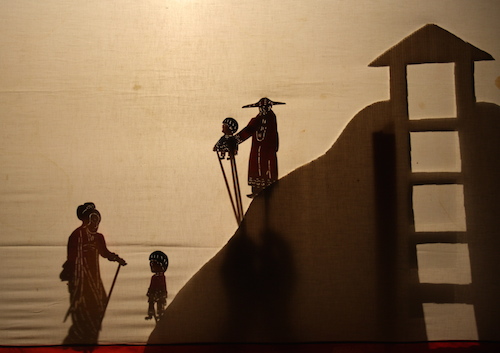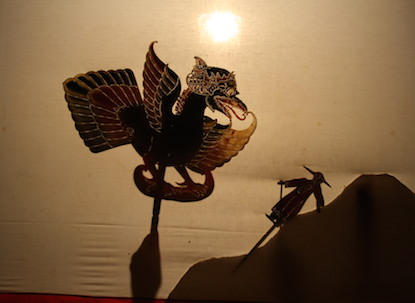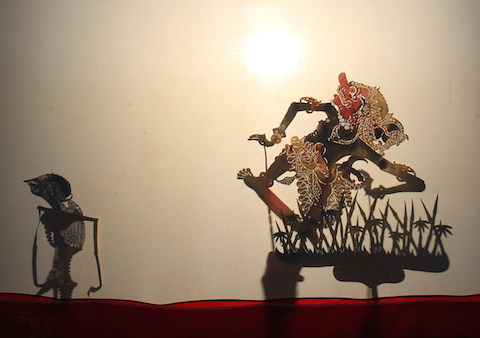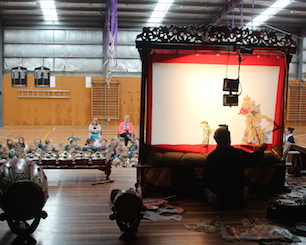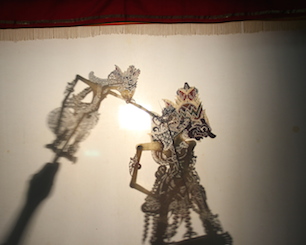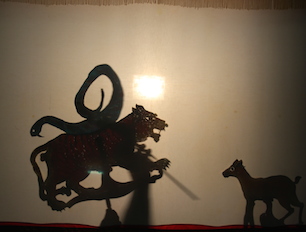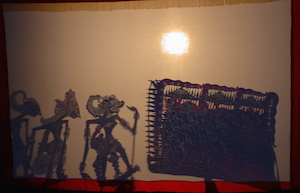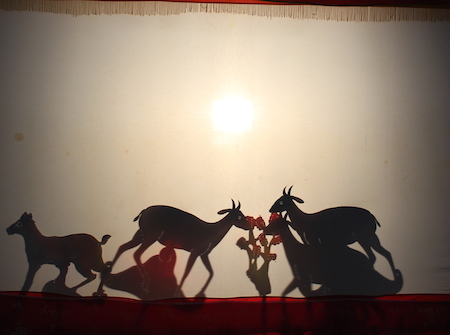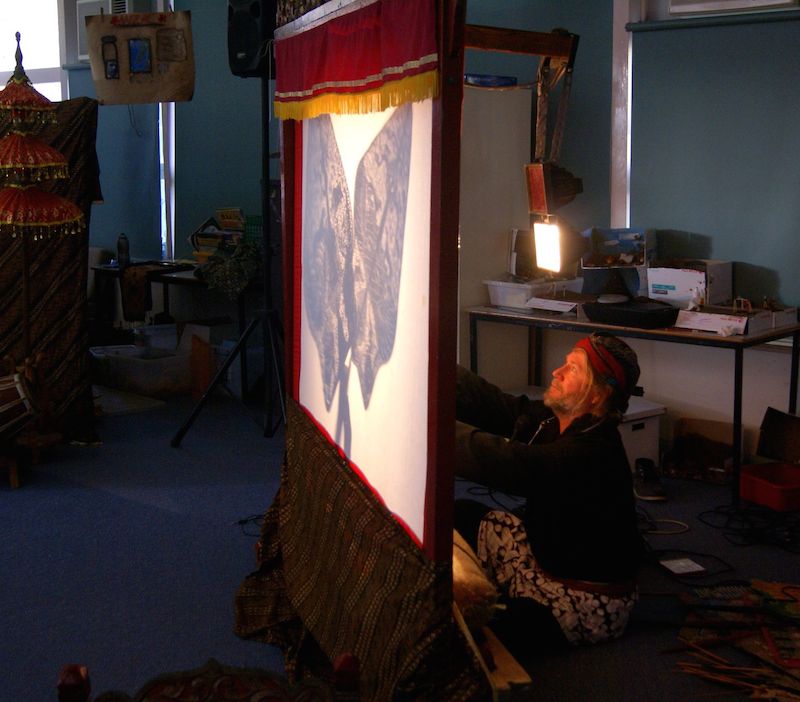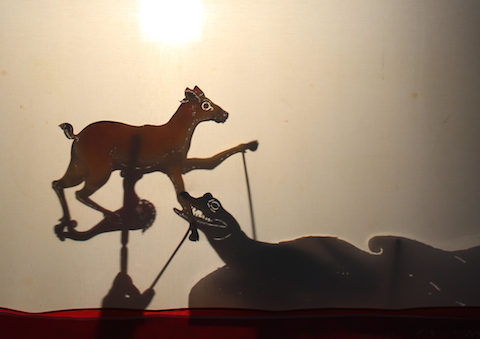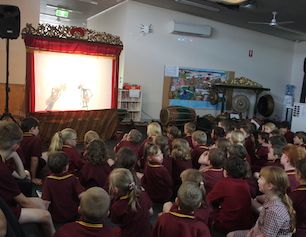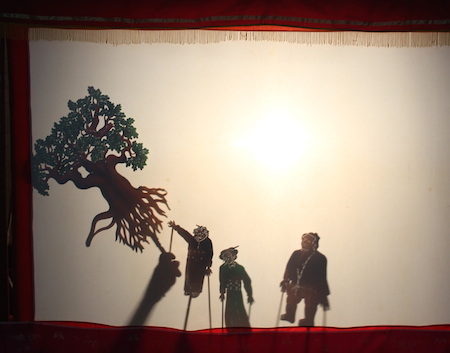 The delights and imagery of the shadow puppets are brought to your school. Traditional folk stories are retold on the screen for your students.
The stories can be Indonesian, Japanese or Chinese. Generally two stories are told, and we get the students to stand up and follow me in an interactive dance in between the two stories.
Recently received the ultimate accolade "Better than T.V." (Sean, grade 1, Dawes Rd. Primary School). The length of the performance may be adjusted to suit your needs, but 30 - 45 min. is a common length.
A shadow puppet performance costs $630.00 + $1.60 per student over 200 students + travel + GST. Cheaper if combined with a day of workshops. Shadow puppets cost $210.00 on a workshop day. So shadow puppet performance plus workshops for the rest of the day cost $940.00 + travel + GST. See below for Asia Raya's fantastic workshops.
Or why not have a shadow puppets "plus", which is a shadow puppet performance plus in the case of Japan, taiko, koto and karate demo. For Chinese it is Wushu, Yangquin and hulusi, and for Indonesian we add pencak silat, kendang (drumming) and bonang (a gamelan instrument) demo. A shadow puppet "plus" performance costs an extra $100.00.
The travel component depends on where your school is situated. Schools within 100 km radius of Bendigo are free. A travel component of $50.00 is added for every further 50 km from Bendigo. The travel component for schools within the Melbourne metropolitan region is rated at $100.00 for schools North of the city, Eastern or Geelong freeways, and $150.00 for schools South of the city, Eastern or Geelong freeways.
Extra performances on the day incur an extra cost of $100.00 per extra performance.
Workshops
Asia raya also runs hands-on Workshops where your students learn an Asian dance, music or martial art.
Gamelan
Taiko
Asian Dance
Chinese lion drum
Martial Arts
Batik Making
Mask Making
Shadow Puppet Making
...for more information Click here.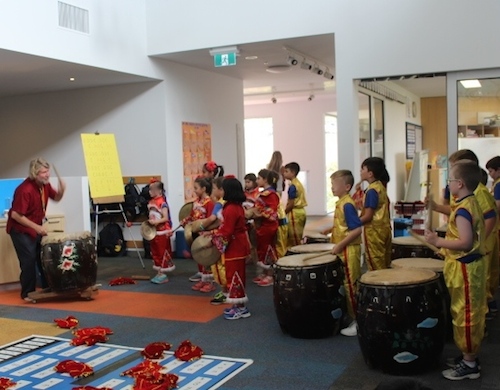 Chinese lion drum workshop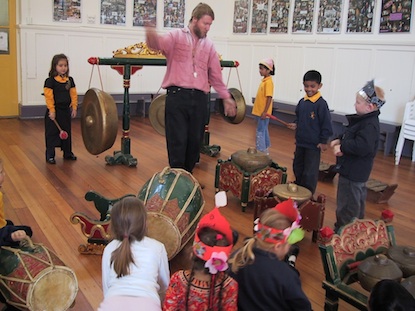 Gamelan workshop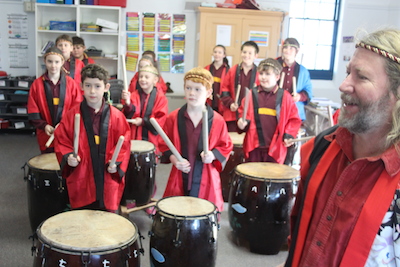 Taiko workshop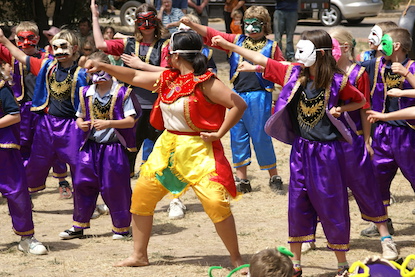 The Indonesian mask dance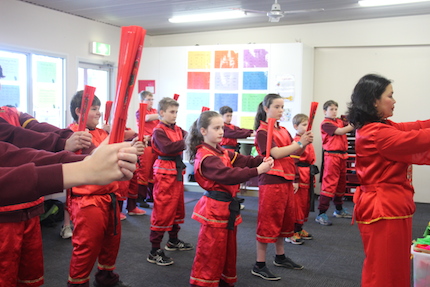 Kung fu fan workshop
A Brief History
Asia Raya started its life in 2000, when Aaron Hall returned to Australia after studying gamelan (an Indonesian music genre) for a year and a half in ISI (Indonesian Arts Institute) - Yogyakarta. This on top of a teaching degree lead to the establishment of "Bagus kan", an Indonesian incursion business in which Aaron ran gamelan workshops in schools with his Indonesian wife Nita who ran Indonesian dance workshops.
Then Aaron added a shadow puppet performance and expanded the workshops to include drumming, pencak silat (an Indonesian martial art) and batik etc. and an Indonesian music and dance performance.
Nita's fascination with dance led her to study Japanese, Thai and Chinese dances, and Aaron's interest led him to study other Asian music and martial art forms.
In 2009 this lead to the establishment of "Asia Raya" which offers performances and workshops from a wide variety of Asian cultures.
Working with Children Card No (Aaron): 00709644-04, expiry date 19-11-2027; (Nita) 00709645-03, expiry date 10-10-2028. Public liability insurance policy number 710182031 LCP with Allianz up to $30,000,000.
Testimonials
Teachers
As part of a Japanese Cultural Day, we had Aaron visit our school and provide a Shadow Puppet performance for the younger students, and Taiko Drumming for the middle and upper grades. The younger students enjoyed the Shadow Puppets, but once they heard the drumming begin a little later they were envious of the older students. Our Year 4s and above enjoyed learning a little of the history of Taiko Drumming, and were completely engaged at being able to quickly drum in rhythm with each other creating quite a wall of sound that echoed through the school throughout the day. Thank you Aaron for the ease of booking and the excitement that ran through the school.
Deb Jordan, Japanese teacher, Rye Primary School, 2023
We are so delighted to have Asia Raya come to Ave Maria Kinder, bringing with you the amazing Shadow Puppet Show promoting the diverse cultural experience to our kinder children. The children enjoy the show alongside the storytelling and listen to legendary stories. They are so engaged in the music and movement activities directed by you. The Shadow Puppet Show is absolutely a fantastic learning experience for children's exploration of art and music. The children and all educators have a wonderful time immersing themselves in such a rich and attractive cultural show.
Jennica Low, Mandarin teacher, Ave Maria Kindergarten, Aberfeldie, 2023
The Grade 1-2 students at our school has been investigating light and sound for their inquiry unit. Aaron and Asia Raya provided the perfect incursion to meet our student's needs and foster their excitement and wonder for the unit. We began with a Japanese Shadow Puppet show and continued with drumming workshops. Aaron was engaging and friendly, the students really enjoyed being around him and participating in the activities. The activities he facilitated were age appropriate and easily relatable to the curriculum. Our students thought the puppet show was hilarious and were still talking about it at the end of term when they put on their own puppet shows! Thank you so much Aaron! I highly recommend Asia Raya to any school who is looking for someone to come and provide a fabulous incursion.
Lirielle Farley-Lehmer, Chandler Park Primary School, 2022
Aaron and the AsiaRaya team were absolutely outstanding. The demonstrations were varied and engaged the students from beginning to end. Each performer was fun, personable and knowledgeable. We especially loved how students were able to get up and have a go at some of the instruments. We can't wait to have them back again and would 100% recommend to any school looking for an engaging incursion.
Eva Davoli, Learning leader: Languages. Emmanuel College, St Paul's campus, 2021
Our students and staff really enjoyed your performances! Your performances were very engaging and entertaining! Thank you so much for coming to our school and sharing some Chinese culture with us!
Joshua Schwbe, Chinese teacher, Melton West Primary School, 2021
Swinburne Student Life had the pleasure of working with Asia Raya for our Celebrate Your Heritage event. Aaron provided our students with a fantastic shadow puppet performance which was highly engaging and loved by all staff and students. It was an excellent inclusion to our celebration of diversity and different cultures. We were very impressed by the level of organisation and Aaron's knowledge and talent. I will be recommending their business to friends and colleagues.
Rachel Bennett, Events & Experience Officer, Swinburne Student Life, 2019
It's our 2nd time inviting Asia Raya to facilitate our Chinese Cultural Day workshops and we are delighted to see that all students are actively engaged. We had Chinese Drum, Lion Dance and Hanky Dance where students had the opportunity to really get their hands on different instruments/costumes and experience these wonderful cultural elements. All facilitators are very professional, approachable, knowledgeable and well prepared. We would strongly recommend Asia Raya to schools who are looking to have a great Chinese incursion.
Lei Zhu, Chinese teacher, Balwyn Primary School 2019
Aaron provided engaging workshops showcasing many cultural aspects of Japan. Aaron does Karate, Taiko, Koto and Shadow puppets. He is popular amongst students and staff! Thank you for engaging the students with you skills and performances. Our students had a fabulous Japanese cultural day.
Holly Ho, Japanese teacher, Malvern Central School, 2019
Asia Raya visited for our annual Arts Day. They put on a fantastic show which was energetic, engaging and colourful. The costumes and props were amazing. The students enjoyed it greatly.
Amy Cecil, Music teacher, Eltham North Primary School, 2019
'This workshop was an excellent inclusion to our exploration of Japanese Music. Such engaging, powerful, active learning. Thank you!' (Ruyton Girls' School)We had a great day Aaron, thanks so much. We definitely want you to come back next year!
Rebecca Barker, Music teacher, Ruyton Girls' School, 2019
Thank you so much for all your work with our students yesterday. They all absolutely loved it, as did the teachers. The performance at the end of the day was a perfect finish to our Japanese Festival. All our staff commented on the very respectful and friendly way in which you interacted with our students and how in such a short space of time you were able to teach them some karate sequences or a special Japanese dance and to top it all off provide enough costumes for all the dancers. If we continue to run this festival again next year we will certainly be seeking to book you both to come back.
Anne Ferrie, Japanese teacher, Our Lady of the Rosary, Kyneton, 2018
On Wednesday, we were having a fabulous incursion about the Shadow Puppet Show with Grade 5 and 6 students as part of our Chinese program. Aaron had done a lot of preparation in advance and he arrived very early to get everything set up. During the incursion, every one enjoyed the two traditional Chinese stories and they could not move their eyes away from the screen. They told me that they could not believe everything was controlled only by one person behind the screen. And Aaron also taught the students the Chinese fan dancing movements between showing the two stories, which was such a brilliant idea to get them stand up and move around. The students told me that they could not wait for Asia raya to come back and do more cultural activities with them. Thank you, Aaron. We will definitely see you again.
Chen Zhao, Chinese teacher, Golden Square Primary School, 2017
Our level booked some Indonesian shadow puppet plays and an adjoining puppet making workshop. The plays were extremely engaging and entertaining for all of the students. And the puppet making workshop was a great follow-up activity for the students to re-create what they had just seen. This incursion was a wonderful way to start our Inquiry unit on puppetry! Aaron was particularly friendly and encouraging of the students. Many thanks!!!
Shae Warren, Grade 3/4 teacher, Marlborough Primary School, 2017
On June 30th, our Junior School students enjoyed a wonderful performance by Asia Raya. They celebrated Japanese culture by watching demonstrations of music, dance, martial arts and theatre. Year One and Two students were also treated to workshops where they got to try Taiko drumming, the Hanagasa Ondo dance and karate with a real life black belt! Take a look at our photos to see how much fun we had. http://pakenhamsprings.vic.edu.au/project/japan-focus-incursion-2017/
Melanie Breadon Japanese Teacher, Pakenham Springs Primary School, 2017
Our students and teachers were so fascinated by the amazing show that Aaron has put on. They learnt about Asian culture and the special way to perform a shadow puppet show. Students talked about the stories even weeks after they had seen the show. Students were excited to be able to use creativity to put up their own shadow puppet show in Nita's workshop. Students described Aaron's drumming session as a wonderful way of learning to work together for festival celebration.
Jiefei Ye, Chinese teacher, Hampton Primary School, 2017
The Year 3 students had a wonderful experience during a Chinese incursion facilitated by four visitors from Asia Raya. In the dance workshop, students moved to the music with the colourful fans, twirled the ribbon gracefully, and bopped to the music with the lantern. In the mask making session the students created their own lion mask and couldn't wait to put it on. In the Chinese percussion workshop the students discovered various traditional instruments such as wood blocks, gongs, cymbals and drums. In the Lion Dance workshop the students worked in groups of three and learnt movements of a lion such as opening and closing the eyes, shaking the head, shuffling back, chasing and catching the 'orange', licking itself and bowing to the audience. The highlight of the day was the students in traditional costume performing together to demonstrate what they had learnt. Each group performed the percussion and a dance. If you were there, you would feel like you were in Chinatown!
Viola Chen, Mandarin teacher, Overnewton Anglican Community College, Keilor campus, 2017
Our school was thrilled by the standard of this incursion and Aaron and Nita are wonderful with the kids. All students were engaged in the different activities throughout the day and they provided a real cultural experience for our whole school community. Days later, students are still talking about the incursion and are making connections with their learning. Thanks so much for a great day!
Joelene Kowalski, Teacher, Glenroy West Primary School, 2017
Aaron and Nita are very easy to communicate with. They are experienced in school incursions and gave me many good advices to plan for the day. They clearly know what students are like and what they are interested in. The workshops were well structured, intensive and productive. The resources and skills they brought in were rich and authentic. Our Year 3 parents were amazed to watch their Children's various performances such as fan dance, ribbon dance, lion dance at the end of the day. I will definitely invite the team back in future!
Grace Wen, Mandarin teacher, Overnewton Anglican Community College, Taylors Lakes campus, 2017
The Grade One students from Mernda Primary School were delighted to have Asia Raya visit their school for their Chinese Cultural Day Incursion. The students thoroughly enjoyed learning Chinese Dances using props such as fans, ribbons and lanterns. They also loved hearing the Chinese music! The most exciting part of their day was when they dressed up in traditional Chinese costumes to perform their newly learnt dances to their parents. It was a wonderful afternoon showcasing the Traditional Chinese dances! Thank you so much to the Asia Raya team who were marvelous throughout the day.
Nicole Lohner, Grade 1 teacher, Mernda Primary School, 2016
Thank you Aaron and Nita for helping our school run such a successful Indonesian Cultural Day! Our students thoroughly enjoyed the opportunity to work with you both as they participated in engaging gamelan and dance workshops. Our broader school community were able to share in the learning, excitement and brilliant colourful display of Indonesian culture, as students performed their new skills at a final assembly. It was a day enjoyed by all. Terima Kasih!!
Kristy Kranz, Indonesian Teacher, Mossgiel Park Primary School, Endeavour Hills, 2016
Once again Asia Raya enchanted our students! To start our day we watched Mupadan which was thoroughly entertaining and included so many diverse acts from all over Asia. The students loved every minute of the Samurai dance, Chinese Lion Dance, Ribbons, Kung Fu Fan, Taiko Drum and the Wayang performance. Our Chinese Dragon parade was fantastic too even if we did end up in a traffic jam!! The teachers and students were so excited about the workshops - Taiko drums, Kung Fu Fan and Chinese Ribbon and Fan Dace. They loved all the equipment and the fantastic costumes. Aaron, Nita and Phillip – thank you, you are true professionals who expended every bit of your energy to ensure our inaugural Asian Celebration Day was a HUGE success.
Claire Robertson - Teacher, Lilydale West Primary School, 2016
Aaron and Nita came to celebrate Chinese New Year with us. We all enjoyed the one hour varied, engaging performance. They performed the fan dance, ribbon dance, Hulisi, shadow puppet show, martial art, Kung fu fan dance, lion dance and organised a fun parade for our kids. Students were fascinated by the ribbon dance and they couldn't stop saying 'wow'. The kung fu fan dance was strong and elegant. During the parade, So many students came to tell me that they had been practicing the fan dance and tried to learn it. The shadow puppet show made students laugh and wonder is that really why Chinese people have short names. Also they were fascinated by the interaction of light and shadow. Our kids not only watched the show but they also stood up and learned Chinese dance with Nita and stepped outside to have a fun in the parade with kids holding a dragon head and a lion head, whilst everyone else was involved, waving the ribbons and beautiful Chinese fans. Many kids said that they didn't have a favorite because they loved everything in the show.
Shi Yin – Chinese teacher, Harkaway Primary School, 2016
The Asia Raya 'Penta-wasik' Incursion promised to be both entertaining and educational and it didn't disappoint. Aaron, Nina and daughter Ning presented an amazing and energetic performance that introduced students and staff to music, dance and drama from several islands in Indonesian. Our school was taken on a cultural journey throughout the Archipelago, discovering Gamelan (Musical Instruments/Orchestra), Pencak Silat (Martial Arts), Traditional Dances and Wayang Kulit (Indonesian Shadow Puppets). It complimented the Languages Indonesian Program beautifully!
Narelle Macnab – Languages Indonesian teacher, Osbourne and Tyabb Railway Primary School, 2015
Aaron's Indonesian shadow puppet performance captured the true style, spirit and hilarity of the traditional shows we had studied in class. Students of all ages were highly engaged with the shadow puppet shows and particularly enjoyed participating in Indonesian dances. The whole incursion was run professionally from start to finish, Aaron being very flexible with performance location and times. He was easily contactable and happy to send through puppets that the students could make themselves before or after the performance. We thank Aaron for his enthusiasm with the kids.
Erin Stevenson – Grade 3/4 teacher, Lynbrook Primary School, 2015
The workshops and performance from Baguskan/Asia Raya were the highlights of our LOTE day. The students really enjoyed the hands-on cultural experience of playing gamelan music and riding around on a real becak! Aaron was very organised and engaging - highly recommended.
Emily Brien - Indonesian teacher, Victory Lutheran College Wodonga, 2015
Thank you Asia Raya for bringing such a wonderful Chinese cultural experience to our school on our Cultural Day. Students completely enjoyed the workshops throughout the day and the whole school performance was amazing. Everyone had fun! Lots of positive feedback has been received from the school community!
Lei Zhu - LOTE teacher, Balwyn Primary School, 2015
Echuca College had the pleasure of experiencing an immersion day run by Baguskan on Friday the 21st of August. Nine schools from around the region were treated to a Pentawasik performance, which had them hooked. The students, Primary and Secondary loved Pak Aaron's wayang puppet show and couldn't stop laughing. Afterwards students participated in mask making workshops, two dance workshops, pencak silat and gamelan workshops. They particularly loved dressing up in Indonesian costumes and riding around like royalty on the becak. Thank you so much to Baguskan for coming and giving our students this opportunity to experience Indonesian immersion. We were absolutely delighted to have you come to Echuca and look forward to asking you to come and see us again.
Courtney Umbers - Yr 8 Assistant Coordinator, Echuca College, 2015
Aaron and Nita provided a wonderful incursion for our school in July 2015. In the morning Aaron conducted gamelan workshops with year 5 and 6 students while Nita taught year 3 and 4 students some traditional Indonesian dances which included dressing up in colourful traditional clothing. At the same time, other students were having fun riding becaks in the school courtyard. After lunch Aaron presented a lively and entertaining shadow puppet play which many students said they loved. The day concluded with a student performance of gamelan and colourful dances. Students loved everything about the day and were even asking when it would happen again. This is Aaron and Nita's second visit to the school. They were well organised, punctual and easy to work with. Highly recommended.
Leonie McCormack – LOTE teacher, St Paul's Primary School Sunshine West, 2015
The workshops and performance from Baguskan/Asia Raya were the highlights of our LOTE day. The students really enjoyed the hands-on cultural experience of playing gamelan music and riding around on a real becak! Aaron was very organised and engaging - highly recommended.
Emily Brien - Indonesian teacher, Victory Lutheran College Wodonga, 2015
Bagus Kan! provided an excellent Year 7 Indonesian Immersion day for our students. They were punctual and provided all the materials necessary for the activities. I was particularly impressed to see that for the batik activity they had examples of a 'cap' and 'canting' as this made it a more comprehensive learning experience. The costumes they brought for the various 'tarian' were beautiful and the students loved performing in them. The day overall was a unique and rich learning experience for the students. I highly recommend Bagus Kan! and hope to draw on their expertise and resources again in the future.
Liz Moore - Teacher of Indonesian, Mercy College Coburg, 2015
We used Baguskan for our Language and Culture Day this year with a focus on providing Indonesian dance and gamelan activities for our students in years 5-8. The students worked in class groups, rotating through the activities and at the end of the day, parents were invited along to watch performances of the dance and gamelan. Nita and Aaron were very flexible as we chopped and changed the format of our day and they accommodated all of our needs. It was so successful with lots of excellent photo opportunities and positive feedback from students, teachers and parents.
Rebecca Gregory - LOTE teacher, Breamar College, 2015
Baguskan did an excellent job with our students in bringing many Indonesian cultural aspects alive. Students were engaged and inspired by the music and dance workshops and the wayang kulit performance was perfect for our junior students. Aaron and Nita's enthusiasm and commitment to sharing their passion made for a great experience for all involved.
Georgie Worland - Indonesian teacher, Bacchus Marsh Grammar, 2015
Today Aaron began by enthralling the Year 5/6's with his Wayang Kulit (shadow puppet) version of the Ramayana- the show was dynamic and funny and dazzling and amazing...that's what the students said! We thought there must have 5 people behind the screen but NO it was just Aaron multi-tasking to the highest degree! Each class then had lots of fun in the Gamelan workshops - what a unique experience to be able to actually play the instruments. It made us all laugh listening to the sounds of the beat and off-beat instruments..... sometimes I'm pretty sure we were all off-beat! Aaron finished the day with the Year 3/4's and his Wayang rendition of the Kancil stories - they all gave a resounding thumbs-up to the puppet show! Thanks Aaron for providing an educational experience that I could not have provided, and for doing it with such flourish and enthusiasm!
Claire Robertson - LOTE Teacher, Lilydale West Primary School, 2015
Our school has been using Bagus Kan for over 8 years and they are our first port of call for any Indonesian incursion or performance. Their wide range of Indonesian cultural activities ensures that our students gain a variety of experiences from dancing, wayang performances and gamelan, which the students talk about for years! We will be booking Bagus Kan again in 2016 and for many more years to come! Terima kasih Aaron and Nita.
Jessica Mills - LOTE teacher, Timbarra Primary School, 2015
The Asia Raya team presented a fantastic program for our grade 1 & 2 students. The students loved learning about and playing the instruments of the gamelan orchestra. The incursion was very easy to organise and on the day, everything ran smoothly under the competent hands of Aaron and Aryo.
Melissa Karakaltsas - Music teacher, St Martin of Tours School, Rosanna, 2014
China Focus is an interactive, engaging incursion that introduces students to a variety of Chinese dance styles and musical instruments. Our students were captivated by the performances and puppet show. They also loved trying out fan and ribbon dancing as part of the lion dance around the stadium – it was great to see every student involved in the parade!
Sheryl Boey - LOTE teacher, Surrey Hills Primary School, 2014
Our school has had a focus on globalisation recently and developed a sister school relationship with a school in China. As a result, I thought it would be beneficial for the students to experience a China focused cultural show by Asia Raya for them to hear and see traditional Chinese music. The students absolutely loved the show. It was engaging with every student getting involved in some way and the colours of the costumes and props meant the show was visually stimulating. It was great for them to see and hear traditional Chinese instruments and they were thoroughly entertained by the shadow puppet show. I have had nothing but positive feedback from both students and classroom teachers. Would highly recommend Asia Raya to any school looking for a cultural show.
Trista Fry - Music Coordinator Birmingham Primary School, 2014
Asia Raya come to perform a Shadow Puppet Performance for our Year 5 girls last Thursday and they were absolutely captivated! The show tied in beautifully with their Art/Drama topics on Indonesian Show Puppets, and they learnt the skills and techniques that go with putting on one of these shows. This was followed by 2 workshops; Chinese Dance & Indonesian Music Ensemble. Both were musical, colourful and entertaining experiences for the entire year level and we will definitely have Asia Raya back again next year.
Aimee Linossier - Dance & Drama Teacher, PLC Junior School, 2014
Asiaraya brought Asia to life in front of the students eyes. They were enraptured by the performance and the performers. The sets and costumes were visually stunning and there was a perfect balance of different styles of performing. The students loved getting involved in the Lion dance and other interactive parts of the show and their questions at the end of the performance demonstrated their interest and understanding and eagerness to learn more about Asia. A beautifully crafted and highly engaging Performance and I would highly recommend Asiaraya to other schools. We will definitely be having them back!
Sally Disalvo - Performing Arts teacher, Sandringham Primary School, 2014
It is my great pleasure to write a testimonial of Aaron's visit from Gamelan to Bendigo Pre-school. From the moment the children came to sit on the mat, Aaron and his puppets captivated their attention, and imaginations! The children AND the adults enjoyed the humour in Aaron's performances and the visual excitement of the shadow puppets! Our pre-schoolers also loved the opportunity to try all the beautiful Indonesian musical instruments, and ample time was given for everyone to try each one! I would not hesistate to invite Aaron back to our pre-school to share his skills as a puppeteer and to introduce our children to Indonesian culture, it was a delight! Thank you!
Lisa Claxton Director, Bendigo Pre-school, 2014
The 'Baguskan!' incursion (pentawasik performance) was a great way to introduce different aspects of Indonesian culture to our students. It was a great snapshot of dance, the wayang kulit puppet performance and music from different areas in Indonesia and its interactive components had all children from Prep-6 enthusiastically joining in!
Alexandra Douros – Essex Heights Primary school, 2014
The learning opportunities provided by Baguskan (Asia raya) at our College over the last 15 years have inspired and enthused our whole community. Students of all ages participate enthusiastically in their engaging workshops and parent performances. Aaron and Nita are very experienced and well prepared with fantastic resources, including costumes, musical instruments and games. The becak is a particular favourite with all students.
Jennifer Hayes - Assistant Principal/ LOTE Coordinator, Point Cook P-9 College, 2014
We have booked Aaron and Nita from Baguskan for more than 10 years. They run engaging Indonesian cultural workshops suitable for students from Primary to Years 10. The girls at our school especially enjoy the dance workshops run by Nita. We're very happy with the programs they offer, they're professional and knowledgeable in the areas they teach. We would definitely book them again.
Fiona Chau – Indonesian teacher Killester College, 2014
I am a LOTE teacher in Cranbourne School. I have been using Bagus Kan for our annual Indonesian Day due to the varieties of cultural activities you can select for each year. These hands-on activities are culturally based and students friendly, which allow every student to experience success. The presenters are very experienced and professional and relate to the students very well. The workshops are very authentic and they really transport you right to Indonesia with the sight, sound and smell of Indonesian arts, culture and cuisine. To have Bagus Kan for our Indonesian Day for over a decade, the name says it all. I will not hesitate to recommend Bagus Kan to any school for an Indonesian Cultural experience.
Mary Chen - LOTE teacher, Cranbourne Primary School, 2014
Bagus Kan! Batik and Dance Workshop 14th May 2014 Aaron and Nita courteously and professionally kept our 370 students on their toes throughout a full day of Batik and Dance workshops. They arrived early with their necessary equipment and packed up happily at the end of a great day. Aaron informatively introduced each workshop to our Grade 4-6 students with a brief outline of the history of batik, and followed up with an intensive introduction to the art of batik production. The students drew their own design, waxed, dyed and dried their own unique piece of batik. Nita taught our students from Prep-3 an engaging dance, culminating with each student donning a costume for a "final" performance!! The students absolutely loved it. We were all happily exhausted at the end of an amazing day!! Terima kasih Pak Aaron dan Ibu Nita!
Claire Robertson - Lilydale West Primary School, 2014
As a teacher of Indonesian for more than forty years, I have come to know of resources that are useful, and unfortunately, a few that were not! Aaron and Nita Hall, working as Bagus Kan!/ Asia Raya are most definitely in the really valuable category. They have provided Gamelan, Dance, Wayang and other workshops to my students of Indonesian, both in Melbourne and more recently, in Hamilton, for at least twelve years. Their workshops are inclusive of all ages and abilities; they are 'hands on' and are fun! They provide a wonderful taste of Indonesian culture. Both Aaron and Nita, clearly love what they are doing and project that enthusiasm.
Maria Patience - Monivae College Hamilton, 2014
All our Year 8 Indonesian students and Y 9 Elective language students experienced a Master class with Pak Aaron. He shared his expertise with the gamelan and taught us the Kecak Dance. A 'hands on' day - a wonderful taster to learn about some aspects of Indonesian culture.
Norma Ellis – St Ignatius College, Drysdale, 2014
Students, with permission
"You are a great dancer. You rock!" Dakota. St. Therese's Primary School
"You made us put a smile on our face" Mikaela.
"Better than TV" (referring to the shadow puppets). Sean. Dawes Rd (Kyabram) Primary School
"It was enjoyable and I learnt a lot" Charlie. Glen Katherine Primary School.
"Thank you for the experience. I have never seen anything like it before" Candice.
"I think it was awesome how they let us use the equipment and go around in the lion dance parade. I also thought it was cool how she flicked open the fan as a weapon during the kungfu demonstration" Cloe. Yr 4 Surrey Hills Primary School
"The puppet show was really funny and the dances were very colourful and quite amazing. Their costumes were very well made" Zac, Yr 3 Surrey Hills Primary school
"I loved it because I got to bang the gong" Lara, Foundation, Surrey Hills Primary School
"It was interesting how they did many different things which no one expected. For instance, the martial arts and the fan dance. I also liked how the parade included over 100 students" Harry, Yr 5 Surrey Hills Primary School